Kailos Genetics and the University of Minnesota College of Pharmacy Establish Pharmacogenetic Testing and Internship Program
Kailos Genetics, a HudsonAlpha Institute for Biotechnology resident company, announced they have established a pharmacogenetic testing and internship program with the University of Minnesota College of Pharmacy.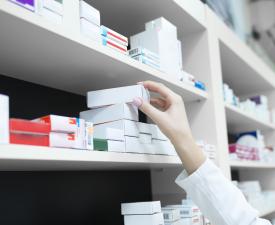 The program offers Kailos Genetics' InspexionTM pharmacogenetic testing service, one of the most comprehensive in the industry, to first year students in the U of M College of Pharmacy to be explored during the course of the student's training. Additionally, through an application process, internships with Kailos Genetics to University of Minnesota students focused on the utility of pharmacogenetics in the healthcare industry will be offered.
"Kailos is committed to the idea that education and technology, particularly in the field of genetics and pharmacy, can be leveraged to improve the health and outcome of all patients. We feel that this exciting partnership with the University of Minnesota College of Pharmacy works towards that goal," says Brian Pollock, Chief Executive Officer for Kailos Genetics.
Pharmacogenetics is the study of how specific genetic variations affect the way an individual breaks down or responds to a medication. Understanding which genetic variations a person carries can help physicians better personalize healthcare.
"This program enables our students to have hands-on experience with pharmacogenetic testing through knowledge of their own genes," said Jacob Brown, assistant professor, University of Minnesota, College of Pharmacy. Pharmacogenomic industry internships such as this provide valuable opportunities for students to explore careers in the rapidly growing pharmacogenomic field. We work to open doors for our students and set them on a path to lead the profession." said Pamala Jacobson, professor and director of the Institute of Personalized Medicine.
Founded in 2010 and located at the HudsonAlpha Institute for Biotechnology in Huntsville, Alabama, Kailos Genetics is committed to providing innovative, trusted and affordable genetic sequencing solutions.
Founded in 1892, the University of Minnesota, College of Pharmacy is the only pharmacy school in Minnesota, with campuses in the Twin Cities and in Duluth. The College of Pharmacy improves health through innovative education, pioneering research and interdisciplinary practice development that attends to the diverse needs of the people of Minnesota and the world.